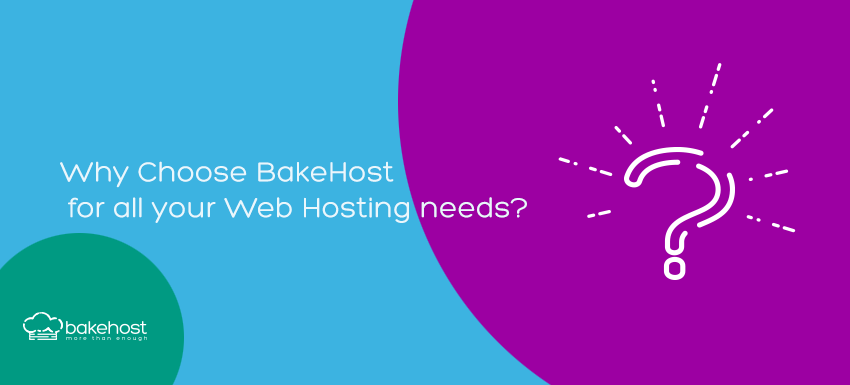 Why Choose BakeHost for all your Web Hosting Needs?
BakeHost strives to change your concept of how a web hosting provider works. If you're planning to start a website or want to give your site a competitive hosting support, your best bet would be BakeHost. We're not discussing any ordinary websites or online business firms that don't give a damn about their online presence. Our hosting, domain registration, and online security services are for those who wish to run a profitable business online. And they are particular about the smooth performance of their websites without any slowdown in their operation at any time.
When you decide to select a best web hosting provider, you need to consider certain crucial aspects. The speed, uptime and search engine optimization all add up to the efficiency of your website. And above all, you have to get your support service whenever you come across a problem on your website, whether it is related to hosting, domain or security features added to your site. There shouldn't be any issue for your customers when they check out your site or when they try to complete any task on your site.
If you don't want to inconvenience your potential customers with the weak performance of your site, think about the precise elements you need on your website, namely your software and hardware requirements, resources, bandwidth, add-ons, etc. The consideration of price is also important, but the competence of your site is more significant than the cost. In the massive web hosting marketplace, you'll run into dubious claims by hosting providers. But don't get into their trap, most of them are misleading and can never live up to your expectation.
BakeHost provides the best hosting solution for your all web hosting needs. When you are planning for an online presence of your business, you must develop a website. It is not enough to draw up a website; you have to make it live in the network. For that, you must need a hosting space. Choosing a best web hosting company is not an easy task.
Here we're not trying to endorse our services or it's not our intention to boast of the facilities we provide. Instead, these are just facts that made BakeHost a preferred hosting service for many ambitious business organizations in the world, especially many successful companies in the Gulf Corporation Council (GCC) countries. Let's see why we differ in web hosting services.
Speed
As we mentioned above, the speed of your website is the defining factor of your successful business. Imagine somebody visits your website to place an order or sign up for some information he needs about your products or service, and your website takes a long time to load your data. It's sure a recipe for disaster because nobody is patient in the online world, particularly if they can get their information from the enormous number of websites available on the same topic you're dealing with.
So, if you're going to have a website today or want to upgrade your site, put the speed is on top of your priority list. We provide both HDD and SDD services. You can use our HDD if your online business doesn't require a huge amount of data transferring and customer engagement. But if you're generating lots of leads and business on a daily basis, you should choose our SSD, which is 300 times faster, much more reliable and secure than the HDD. We've given different packages considering the standard hosting requirements. Check out our packages here and select the best one that suits your needs. Or if you require any assistance with selecting the right packages for you, please contact our customer care department.
Price
Comparing to the old days of hosting services, the cost of hosting your website has gone down dramatically. It's much cheaper, and any premium hosting service doesn't cost you a prohibitive amount. But, still, many unscrupulous hosting providers charges much higher amount than the actual price. Sometimes you get a hosting service at a lower price, but when you try to renew it, they show their real face. When you sign up for our hosting, you'll get each and every detail of the prices of our packages. There is no hidden cost or cutting corners because we believe in your satisfaction is the cornerstone of our success.
Bandwidth
It's vital to analyze how much data will be carried through your website before you start or renovate your website. The more visitors you receive; the higher bandwidth you require for the hassle-free operation of your site. We offer unlimited bandwidth packages, and all of them comes without any extra charge. Consider the average size of a webpage you use and page views by each visitor before choosing your bandwidth. If your website draws a significant amount of attention from visitors and multiple people use your site simultaneously; obviously, you need to go for a high bandwidth option or unlimited package.
Backups
Cyber security is always at risk when hackers and terrorists are trying new-found ways to get into your online fortress. Even if you secure it with latest security tools, you may face the challenges from sophisticated malware attacks and hackers. Or even the slightest error from your non-technical staff might jeopardize your whole website. Hence, securing your complete data is the only solution to overcome this issue. BakeHost backup your entire website file by using high-end technology, in which your backups are generated and downloaded via the backup option in cPanel. We let you have many choices in backup procedures, such as full website backup, database backup or partial backup. You can also handle daily, monthly and annual backup services. Thus we prepare for you any eventuality that may hamper your complete control over your website data due to an external threat.
Security
As for a website, Security is as important as speed and bandwidth. In response to increasing threats in the cyber space, hosting providers have come up with innovative security features. Security tools and strategies are getting evolved in proportion with the risks. We put a premium on the safety of your website by providing a broad range of add-ons that will safeguard your valuable data and confidential files from any external or internal threat.
SSL Certificates
SSL (Secure Sockets Layer certificate) means establishing an encrypted link between a web server and a browser, which ensures that all data transferred between them remain protected from external threats. We provide a variety of SSL Certificates to amplify your online security, including Domain Validated SSL, Organization Validated SSL, and Extended Validated SSL.
SiteLock
Our SiteLock protects you from common security threats like malware or SQL injection to your website. If you use SiteLock on your site, you'll be notified via email every time a harmful outsider assaults your site.
Brute Force Protection
Brute Force protection save you from all attempts by hackers to get your web server password. It alerts you with an email if there are failed login attempts are made on your server, and you can customize the configuration of this system, such as setting the maximum login attempts in a given period before the IP is blocked. You can also use one-day protection feature which decides on how many failures per IP address is allowed before it gets blocked for one day.
DoS and DDoS Attack
Denial of Service (DoS) attack and Distributed denial of service (DDoS) attack focus on bandwidth and other resources of your website. It makes the resources and network unavailable for users. To prevent these attacks, the incoming traffic for the site will always be monitored properly. Since DDoS attack try to destroy both the functioning of hardware and network systems, it's essential to be well-prepared to resist this threat. And we equip your website with outstanding features to outwit the cyber attackers who are waiting to pounce on you at any given opportunity.
Malware Protection
Hackers often try to inject many types of malware into your website files and SQL database to endanger the functionality of the site. When infected with malware, the search engines will block those websites, making your site invisible to the visitors. We safeguard your websites from malware attacks. If our security system detects any malware in the files, it keeps those files from running and moves it to the quarantine folder, which allows a high level of safety from the malware attacks. Also, our Server is guarded with various security add-ons, plugins, and numerous automated resource management configurations.
Emails
We help you create a business email with your domain name (for example sales@yourdomain.com), in your cPanel. It lets you add many features for your accounts like email forwarding, Auto response, etc. You can also use Horde, Roundcube or Squirrelmail to access your email accounts in webmail.
Spam Control
BakeHost provides spam control solution so that the spam emails are filtered automatically and your IP won't get blacklisted at all. We also give security to every email accounts. If there are any unauthorized login attempts, we send a security alert to clients to make their account safe.
Control Panel
We built our hosting control panel simple and unfussy so that the user can monitor their accounts easily.
cPanel
Our web-based cPanel which is user-friendly with a variety of value-added features. From the cPanel, you can manage almost all of your website's functions, such as email accounts, FTP accounts, file manager, SQL databases, phpMyAdmin, subdomains, addon domains, backups,  type of, etc.
WHM
If you are signing up our services through a reseller, VPS or dedicated server packages, we give you the WHM (Web Host Manager )control Panel, by which you can manage all your accounts. It lets you create accounts, suspend, terminate, manage DNS records, Mx entry, creating packages along with managing emails, backups, etc.
Support
Having any issues in the domains, hosting or SSL services? We're always on hand to help and solve the problem as quickly as possible. BakeHost offers 24/7 support to you. You can contact through phone. Email, Live chat or via ticket system. Our focus is to achieve the invaluable trust of you by guaranteeing the best and trouble-free performance of your sites. Don't hesitate to contact us anytime you face an issue with your hosting related functions.
Packages
We offer many packages according to your diverse needs. It contains shared hosting account for small and big businesses, e-commerce hosting, WordPress hosting and SSD hosting, and so on. Our e-commerce hosting comes with various add-ons like free SSL, free payment gateway.  And for those who want to develop their website with WordPress we provide a dedicated WordPress hosting by which we will give support to various WordPress issues.
You can obtain from us both HDD (Hard Disk Drive) and SSD (Solid State Drive) hosting services. Our HDD hosting facility is almost always adequate to cater to most of your web-hosting needs. Moreover, it gives you unlimited space at a very competitive price. But if you want to have a much faster and greater performance, you can opt for our SSD hosting services, which is more durable and costlier than HDD.
Power your Website with the Best Web Hosting Features
You'll get all the essential information from us on which server you have to choose according to your website's characteristic and target. In other words, our plans and strategies are precisely made to deliver on our promises.  And that's what make us different from the noisy web hosting market filled with unfounded claims by many web hosting and domain providers.
Get BakeHost services to power your website with the best hosting features. If you want to experience the perfection and competency of new technologies in web hosting sector, welcome to BakeHost. It emerges from the complete dedication and unrivaled experience from a team who want to change the way your websites perform. We're determined to equip you with the real power of web hosting to accomplish your goals in any venture you are involved in.